The latest KitchenWhiz update has two amazing new features!
The first is the addition of Zoom functionality, and the second is a new intro screen when beginning to design your kitchen cabinets.
Intro Screen
The very first screen, when starting to design your kitchen, is now way more simplified and 10 times more beautiful in our opinion!
Just select your measurement unit and then you can start designing immediately. This was made possible by the addition of zoom, which we explain below.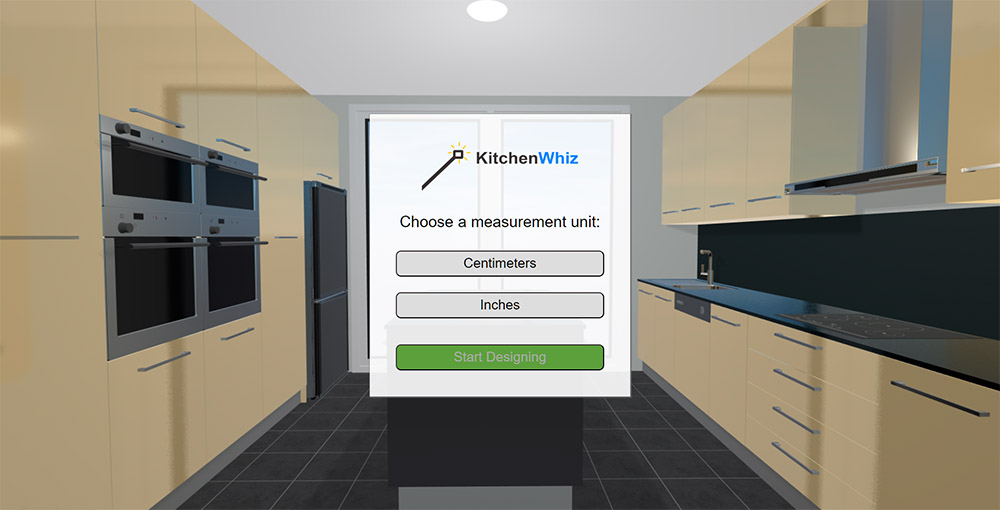 Zoom
Now its possible to zoom in & out on your 2D floor plan and front views.
After you select your measurement unit, you will now see the following icons at the bottom of the canvas grid.

Click the magnifying glass to zoom in & out and the arrows to pan your floor plan in any of the four directions.
In addition, you can use your mouse scroll-wheel to zoom in & out. You can also use your mouse left-click to click anywhere on the canvas and pan around.
Note that panning with the mouse on the first step is not recommended and its best to use the arrow icons above
What is next?
Our next new feature is a BIG one!
We know that a lot of our users are having trouble with the first step, which is drawing your walls. This new feature will make drawing your room walls A LOT more easier.
We are also optimizing the remaining steps by adding more visual elements so that the whole design experience is improved even further.
Do you like these new features? Comment your thoughts below!