When planning a kitchen redesign, one of the biggest challenges is balancing visual appeal with functionality. Whether you're going for a classic or modern look, you'll want to ensure that your kitchen's layout allows easy meal preparation.
So what are the golden rules when choosing your kitchen layout? And how can you make the most of your available space with clever solutions?
Keep reading to learn our favorite tips and tricks to keep in mind when designing a kitchen layout.
Consider the Work Triangle
When choosing your kitchen layout design, we'd recommend starting with the basics. That means your food storage area (refrigerator), food preparation (stovetop), and cleaning area (sink). These three items form the work triangle.
This is a concept first designed in the 1920s. Its purpose is to ensure efficiency in the kitchen area and it sets out guidelines for the optimum measurements in a kitchen.
The idea is to have a clear pathway between each of these areas. Each side of the 'triangle' should have a length between 1.2 and 2.7 meters. There are also further specifications relating to the width of spaces and depth of units that you can look into.
Utilize Your Space
Depending on the space available and the shape of your kitchen, there are several established kitchen layouts. The best kitchen layouts will be determined by your personal preference and how you can make the best use of your kitchen area.
The one-wall (or I-shaped) layout is mostly used in small kitchens. Generally, there is not enough room for units on more than one wall, and it results in an inefficient layout. Only choose the I-shape if you have no other choice.
The galley layout is also chosen when low on space. Typically, the refrigerator and oven are placed on one side, while the sink goes on the opposite side of units. Be sure to leave enough room for your walkway with galley layouts, as you might need room for two people to pass with ease.
The L- and U-shaped layouts are more popular choices. With these layouts, you'll have a continuous flow of units along two or three walls of the kitchen. This can sometimes be broken up by a doorway. The L layout in particular can fit any size of kitchen and is a very versatile design.
Arrange Your Range
It's always important to think about the space surrounding your stovetop. This will be one of the focal points of the room, and it's essential to keep this area functional for food preparation and cooking.
You'll want to leave space on either side where hot dishes can be placed after taking them out of the oven. It's also useful to make room for utensils close to your stovetop, including wooden spoons, labels, and turners. You might want to consider keeping items like oil, salt, and pepper with reaching distance of the stovetop too.
Don't forget to make use of the walls as potential hanging spaces. S-shaped hooks are a great way to declutter cabinet surfaces.
Think About Your Outlets
A small but essential element of kitchen remodeling to remember is your electrical outlets. These should be evenly spaced throughout the kitchen. It will be important to think about where to place your microwave, coffee machine, and toaster.
If possible, it's a great idea to install outlets on the side of an island as well. This allows people to charge their phones or laptops while seated in the kitchen, adding to the room's functionality.
When planning the number of available outlets, take the appliances you'll have permanently plugged in. Then double this figure, to account for temporary electrical devices that need to be plugged in.
Walk Through Your Kitchen Routine
A great tip for planning your kitchen layout is to put your daily routine into practice. Imagine the items your family use during breakfast, lunch, dinner. Do you have room for people to pass through the kitchen while someone is cooking?
You might find that certain items are best kept near the island to create two separate working areas. For example, some families choose to store breakfast bowls and cereals here at a lower level so that children can help themselves in the morning.
Using our online kitchen planner is a great way to visualize the space you'll create in your new kitchen.
Explore Color Options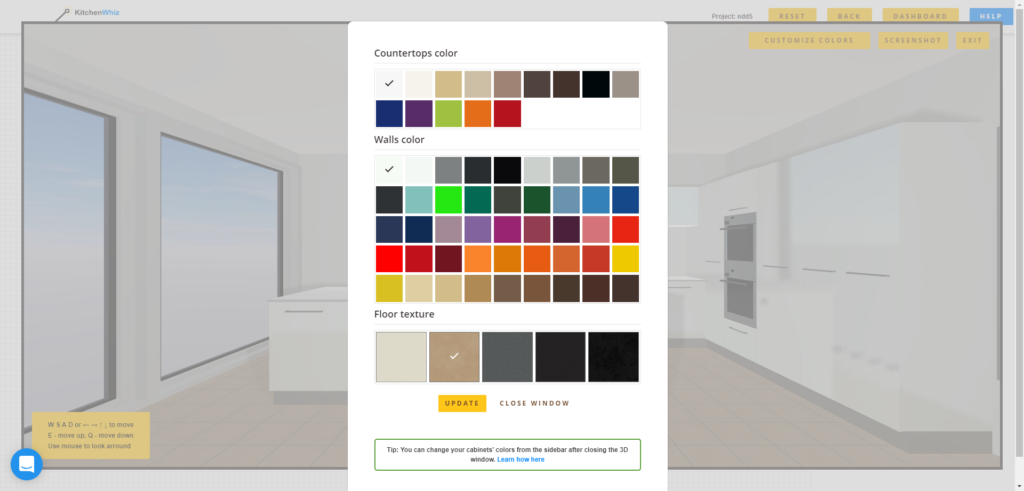 Nowadays, kitchen cabinets come in a wide variety of colors. There are several points to remember when selecting the colors featured in your kitchen.
If your kitchen is on the smaller side, lighter colors can help create the impression of space.
Think about how the different colors might complement each other: this includes chairs, walls, units, and flooring.
Consider introducing small pops of color if your units are neutral colors. This could be with your tea towels, splashbacks, or appliances.
Don't Forget Our Kitchen Planner
Our final piece of advice is to make use of our kitchen layout planner! KitchenWhiz makes designing your kitchen layout easy. It's simple to try out different-shaped layouts, and there's no need to worry about measurements. Our software will take care of that for you.
Stay focused on the creative aspect of designing a kitchen, and leave the technical details to us! When you're ready, you can download a PDF of your kitchen design to let your ideas come to life.
That's How You Can Optimize Your Kitchen Layout
By incorporating these tips into your kitchen layout planning, you can make sure your kitchen is a stylish but functional room. The placement of your counters and appliances can have a huge impact on the usability of the room. Using our KitchenWhiz planner is a great way to visualize the layout of your kitchen and determine how to make the most of your space.
Find out more about our different pricing options and check out our FAQs by clicking here. Don't hesitate to reach out to our team if you have any other questions about using KitchenWhiz.