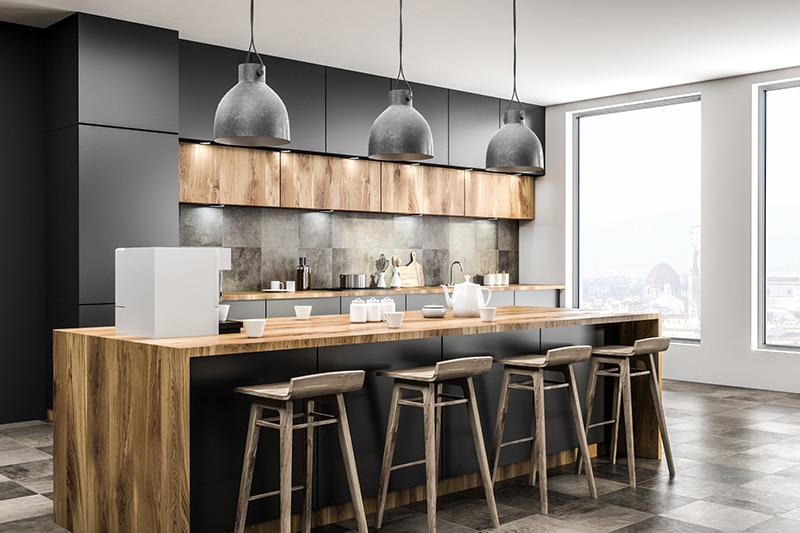 With the average kitchen remodel costing an estimated $150 per square foot, on average, it's no wonder homeowners agonize over the details.
Finding the perfect colors, designs, and features can mean the difference between a cohesive family space and an awkward, cramped area. But how can you tell which designs are worth the investment?
Though some kitchen design trends come and go fast, 2021 is bringing a number of widely popular trends that pair function with timeless elegance. If you're considering a remodel, we've got you covered: here are the trends worth bringing into your kitchen for this year and far beyond.
1. Connections to Outdoor Spaces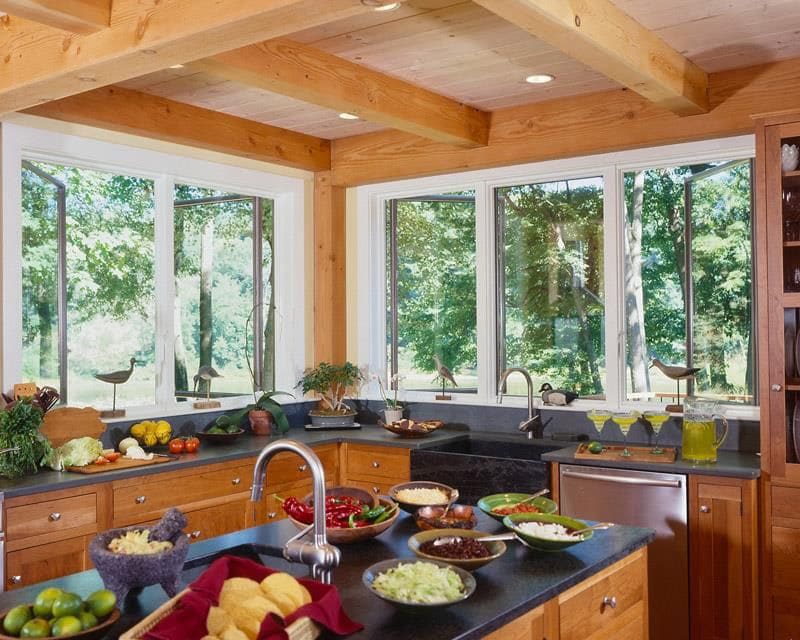 During the lockdowns resulting from the pandemic, many of us started spending more time than ever in our backyards. This country-wide turn to nature allowed us to make use of more living space, focus on our mental health and emotional well-being, and even create safe places to gather with friends and loved ones.
This year, it's clear that home improvement trends are keeping up with the urge to head outdoors. Many homeowners are considering more spacious kitchen windows to bring in more light, and others are adding entry points for easier access to outdoor living areas like patios or exterior kitchens.
2. More Island Space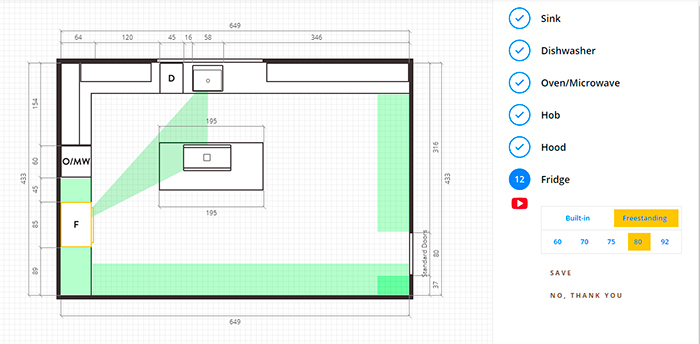 In recent years, we've seen a heightened focus on creating kitchens with larger and larger footprints. As a result, many renovators are creating better ways to add extra counter space, like adding an island to their home remodeling plans.
In 2021, the kitchen island is more of a focal point in the home than ever. The global pandemic has made it clear to most of us that this space is needed for much more than cooking: during lockdowns, many of us found ourselves working from the kitchen table, setting up a space for distance learning, or connecting with our social "pods."
To make the most of their kitchens, homeowners may want to add in a larger island as a focal point. It's also worth considering the ultra-trendy double island as you play with your kitchen layout planner!
3. Larger Pantries
The humble storage pantry has been a household feature for centuries, but it has become the new focus of kitchen remodeling trends this year.
Extra storage is a helpful resource at the best of times, as it allows us to keep food items out of sight. For homeowners toying with the idea of adding fewer cabinets in their online kitchen planner, a pantry can be the right step!
In addition, a larger walk-in pantry can be a great way to stock up on bulk family favorites, whether you've found a great price or you're hoping to keep certain staples around during insecure times. What's more, pantries are great places to store all of the extra impulse purchases many of us bought during the lockdown, from ice cream makers to air fryers to baking pans.
4. Pops of Color
When it comes to kitchen space, few colors are as popular as classic shades of white. Even homeowners who opt for other hues tend to stick with neutral colors like beiges and taupes, hoping to create a kitchen design that will stand the test of time—for at least a decade or two.
However, it's becoming more and more common for renovators to experiment with pops of color in their overall kitchen design.
To truly make your colors pop, consider painting or wallpapering an accent wall. Alternatively, add smaller pops of color throughout your design. Lively green pendant lights might tie together a nature-inspired kitchen, for example, while a deep blue backsplash might pair well with a nautical theme.
If you'd like to get in on this trend, consider checking out the 2021 colors of the year for inspiration as you dive into your online kitchen design.
5. Smart Appliances
It should come as no surprise to anyone that one of the most popular trends coming out of the pandemic has been touchless faucets. Their simple design and virus-friendly functionality made them a huge hit.
Additional smart appliances are growing in popularity as well. From touchscreen refrigerators to motion control lighting, more and more renovators are making plans to bring their kitchen designs into the future with these tech-friendly upgrades.
6. Quartz Countertops
It's safe to say that quartz is reigning supreme in the world of countertops this year. This hardy, low-maintenance, and antimicrobial surface comes in a huge range of colors and finishes.
Neutral shades like soft greys, creamy whites, and warm taupes are currently among the most popular styles. Certain manufacturers can even create realistic stone patterns, like swirls, speckles, and veins, for a more natural appearance.
7. Handleless Cabinetry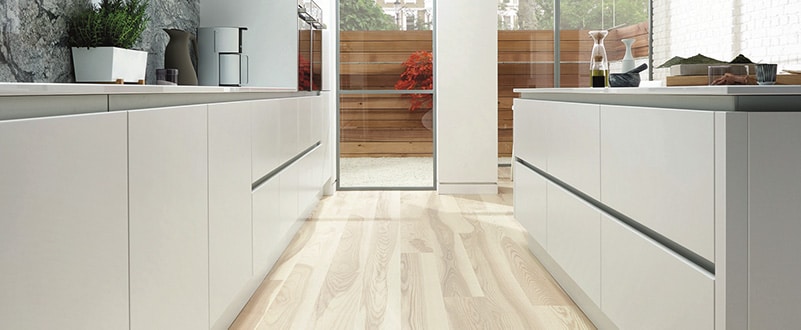 While rustic styles like farmhouse and mid-century modern are still popular today, we've seen a growing trend toward sleeker, more minimalist styles. This means clean lines and contemporary designs—all of which can benefit from handleless cabinets.
These no-handle features may include handles that recede for a streamlined façade. They may also include push-open options or doors that open by pulling the bottoms. No matter which you choose, they're great for a simple yet functional look.
Try These Design Trends in Our Kitchen Planner!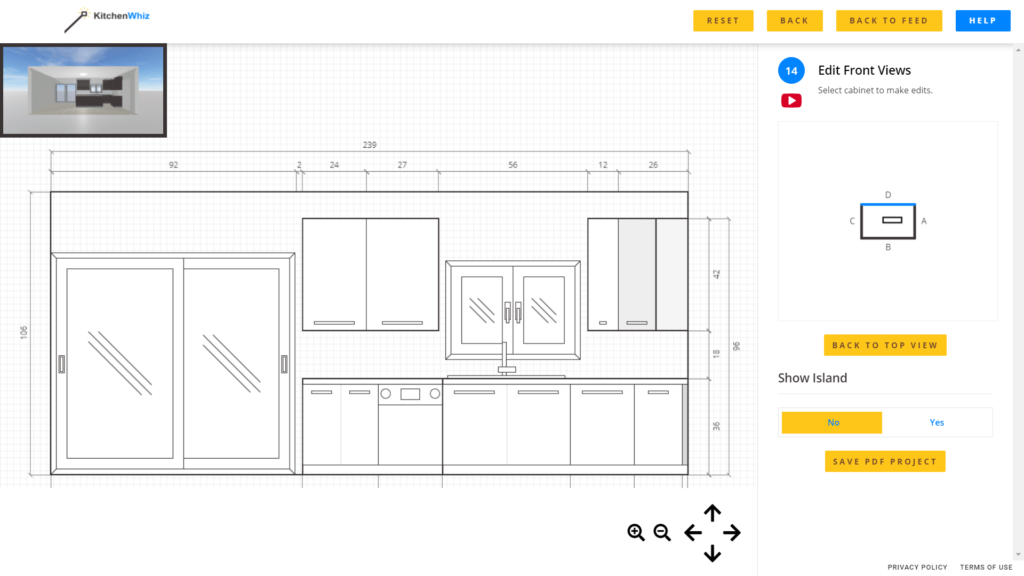 It's safe to say that 2021 will bring a wealth of beautiful and unique trends to the kitchen—so it's time to jump in!
Are you ready to see how these popular design trends will fit into your kitchen remodel? With our online kitchen design tools, you can envision the look and feel of your updated kitchen in just a few clicks. Register now to design your kitchen online today!