Have you ever considered the effect of floor design in your kitchen?
So many people overlook picking a great floor for their kitchen space, but it can absolutely transform your interior. A well-picked floor can immediately open up your room and add a touch of style, so don't forget it! If you don't believe us, just use a kitchen planner to add a new floor to your kitchen and see what it does for your space.
But, picking a floor is difficult, especially in your kitchen. There are a lot of practical things you need to consider as well as style to make sure you get the perfect match. Luckily, we're here to help.
Check out our guide to the best kitchen floor options and transform your space!
Hardwood Floors
When you design a kitchen online or use a 3D kitchen design tool, be sure to check out how hardwood floors are going to look. Hardwood floors have been used for hundreds and hundreds of years to create a durable floor that looks great, and it's as much in style now as it was centuries ago! If you're looking for a timeless option, hardwood is the way to go.
You can customize your flooring to match your space, too. Use your online kitchen design tool to play around with the different design styles you could go for. Look at the pattern of wood you could use, from straight and even planks to a more zig-zag or herringbone layout for something fun and funky!
You can also choose a wooden floor that has different patterns within the wood, is a different color, or has a different finish. It's a super versatile material that you should definitely consider.
However, there are some factors that you should be aware of. Firstly, hardwood isn't waterproof, though it can be made water-resistant with a finish. If there are spills you should clear them up straight away, which can be a pain when you're cooking!
They can also be a little slippery. If that could be a problem for you, see what a wood that's distressed or hand-scraped could look like with a kitchen layout planner. The extra texture should give you a better grip when rushing around your kitchen.
Laminate Flooring
If you've used wood in your online kitchen planner but have realised it just isn't practical or it doesn't suit your budget, why not try laminate? You can use laminates that mimic the style of wood, giving you a similar look for much cheaper. It's also warm, easily wipe clean, and completely waterproof.
In 2021, expect lighter laminates to be bang on-trend. Light greys and honey are set to be the in thing, so play around with them with kitchen design software to see what works in your space!
However, if you can, always opt for real wood. It just gives a much better finish, adding that luxurious touch and instantly improving the look of your space, and it's also more sustainable for the planet. Laminate just doesn't give the same upmarket feel to a kitchen, although it is a good option if you need to think more about practicalities.
Porcelain Tiles 
If you're looking to make a kitchen stand out, opt for a tiled, porcelain floor. There's so much you can do with tiles using kitchen design software, and they can add a super chic look to your space.
Opt for plain white or light grey tiles with a white grout for a clean, timeless look that'll provide a neutral backdrop for the rest of your interior. Or, make your floor your centerpiece by using patterned or colored tiles, creating a surface that's going to really jazz up your kitchen. If you're not happy with your space as it is, a tiled floor is a brilliant way to quickly improve a kitchen!
If installed and sealed properly, your tiles should be very durable and last a long time. They can handle spills, splashes, and splatters in your kitchen with ease, making them an ideal option for such a messy space. Be aware though that, unless you use a non-slip finish, your floor may be a little slippery.
Natural Stone
Investing more of your budget in your floor is a great idea when you design your own kitchen online. While a change of cabinets and a new worktop can make a change, it'll all fall apart if you don't have a beautiful floor to tie it together. If you're willing to spend more money on your floor (a wise choice) then take a look at natural stone tiles.
These are one of the most beautiful floor options that's very modern. They usually feature naturally occurring colors and patterns, like marble, and will create a definite high-end feel in your space. Play around with different sizes and shapes in your kitchen planner online to find what works for you.
It's good to note that natural stone will take a little more looking after, but it's well worth it for the finish it gives. As long as you care for them properly, you'll have a gorgeous kitchen floor that'll last a lifetime!
Test Out Floors With a Kitchen Planner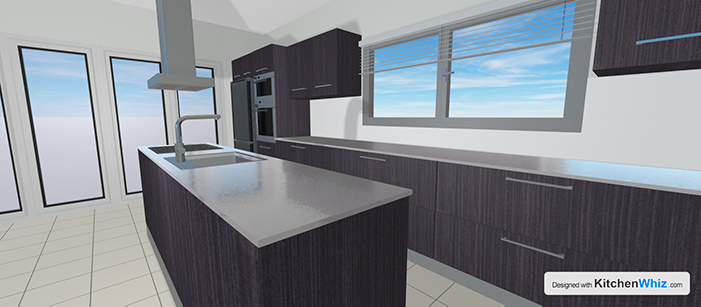 Your kitchen floor is just one aspect of your space but, as you can see, there's a lot of thought that goes into choosing it! It's the same for your whole interior, which can make it a long and tricky process. Luckily, we're here to make it easier.
Our kitchen planner tool lets you create a virtual kitchen based on your design choices, and it's super simple to use! You don't need any design experience or online design tool knowledge. Take a look and start designing your dream kitchen today.