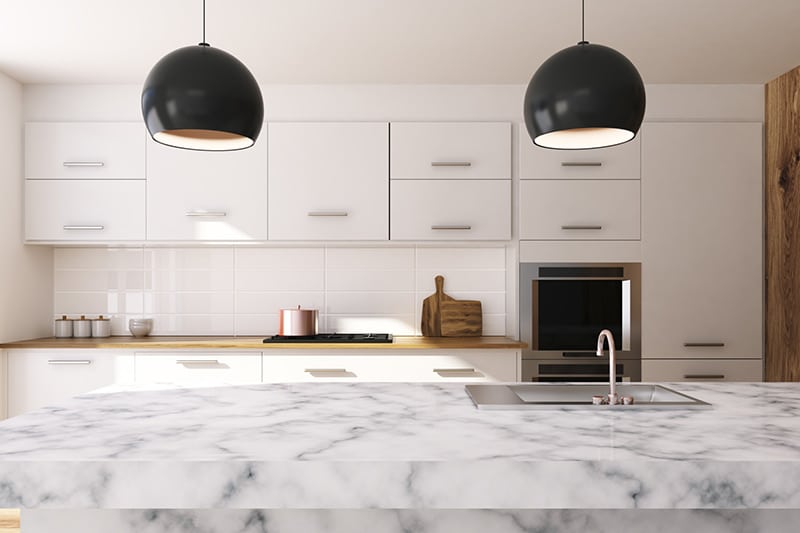 When you're doing a kitchen remodel, it's always worth remembering that there's one facet of your design that will instantly grab visitors' attention: your countertops.
Your countertops are a huge focal point in your kitchen. Not only do they support any activity you perform while cooking or entertaining, but they also take up a fair amount of real estate. Experts recommend at least 150 inches of counter space, lengthwise, though heavy kitchen users might want to add more room.
If you're not sure how to blend your functional needs with a great aesthetic look, these kitchen countertop ideas can help. Be sure to consider them as you start your online kitchen design!
1. Mix and Match Materials
If you're on the fence between multiple kitchen countertop materials at different price points, why not mix and match? Pairing complementary styles can bring a one-of-a-kind flair to your interior design. If you want to get even more extreme, consider pairing very different styles for a unique, eclectic look!
This technique can be difficult to pull off unless you know how your overall kitchen design will look in the end. If you're thinking about adding different materials to your countertops, be sure to plug your kitchen's features into an online kitchen layout planner to see what the finished results will look like.
2. Try a Matte Look
Glossy kitchen countertops have timeless chic, but the matte look has become a fast-growing trend in recent years. This style has a few great benefits, the most important of which is that matte looks tend to be better at hiding flaws and scratches.
If you're not sure whether you prefer a matte or polished look, consider getting a medium-gloss leather finish—which looks great on granite—for a unique texture to complement your kitchen.
3. Opt for Stainless Steel
Stainless steel countertops have long been the preference of professional chefs in the culinary world, and for good reason. Stainless steel is resistant to stains, rust, and even burning, making it perfect for any home chef who likes to experiment in the kitchen.
However, it's worth noting that this option—while truly restaurant-quality—can put a dent in your budget. The cost can be well worth the investment, however, as these countertops tend to be long-lasting and high-quality.
4. Go Natural With Reclaimed Wood
Whether you're pulling together a nature-inspired design or you want to shrink your carbon footprint, reclaimed wood counters may be the best kitchen countertops to choose.
These gorgeous and planet-friendly options are recycled from older properties. They're easy to find in standard varieties like maple and oak, though you may be able to find rarer options with a thorough search. The warm, earthy tones can help bring together your kitchen for a beautiful and organic look.
5. Consider Your Edge Profile
When it comes to kitchen countertop options, most renovators don't immediately think about the edge design. However, it's important not to save this decision until last! This subtle detail can make a big difference in the overall look of your countertops, so it's important to consider the edge profile at the same time that you consider the countertop material itself.
Edge profiles can vary from rustic, chiseled edges to softer ogee edges.
In general, it can help to consider the larger kitchen aesthetic you're going for when you decide. For example, clean, minimalist kitchens might benefit from a straight edge, while a Dupont edge might be better for a kitchen that needs a touch of elegance.
6. Use a Two-Tiered Approach
Different areas of your counter space can serve different purposes, whether you're doing prep work, entertaining, or using the area as a desk. In some cases, this may mean that it's easier to have areas with different heights for different functions. This kitchen design approach is most often seen with kitchen islands, though it's not impossible to tie it into your primary countertops as well.
Standard kitchen countertops stand at around 42 inches, but areas with chair seating might require lower countertops. Food prep is at standard countertop height, but homeowners with back pain or limited mobility may want to design a taller or shorter space for the job.
Take some time to consider how you most often use your kitchen countertops, and be sure to use your kitchen design software to brainstorm any areas where staggered tiers or height changes might be appropriate.
7. Shape Your Own Countertops
It's always worth remembering that kitchen countertops don't need to fit a standard square or rectangular profile. Whether you want to make the most of a unique kitchen layout or create a stylish entertainment area, consider thinking outside the box to shape your countertops as needed.
This might mean designing a space whose countertops curve with foot traffic, or a contoured kitchen island that hugs your cabinets. Feel free to play with unique shapes and designs as you brainstorm!
Try These Kitchen Countertop Ideas Today
Your kitchen counters get a lot of use, so it's crucial to ensure they're a great practical fit for your needs—as well as a gorgeous addition to your kitchen remodel. Consider the kitchen countertop ideas above to get inspired and find the perfect design for your needs!
As you brainstorm your new counter space, don't forget to make the most of our 3D kitchen design tools. With just a few clicks, you can design your kitchen online to see how the finished product will look. Register now to get started.