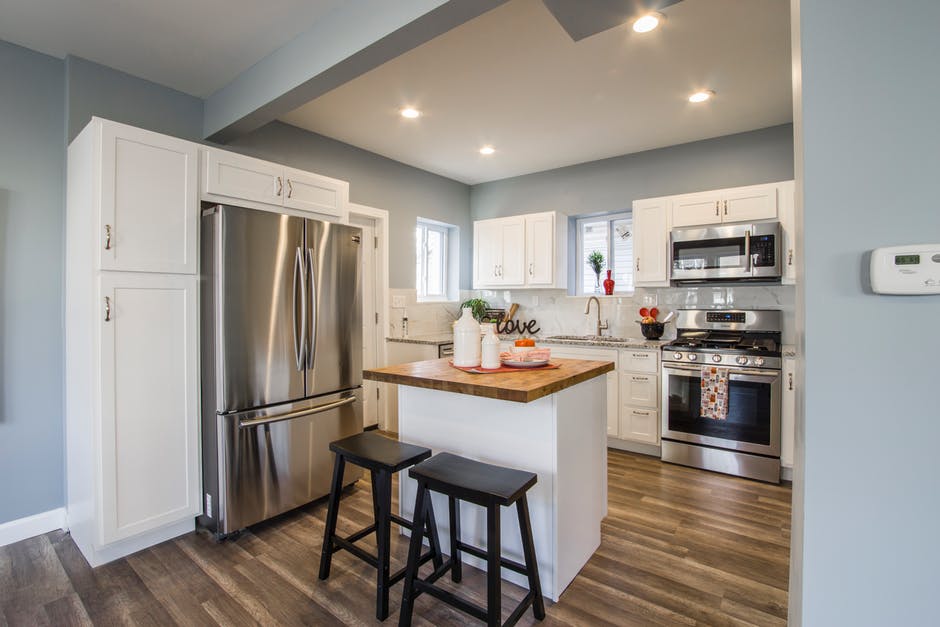 Did someone say kitchen makeover? Of all the rooms in a house, kitchen remodels are designer's favorite projects. They can be costly but the end results are worth the expense.
If we're honest the top reason people invest in kitchen remodels is that they can't stand their kitchen.
So how do you end up with a kitchen you hate? Reasons vary. Some people purchase homes with the intention of remodeling. Others simply outgrow their existing kitchens.
It doesn't help that designs change and having an outdated kitchen is somewhat of a downer. It's like driving an old car and seeing the newer model every time you leave the house.
Looking for a change, continue reading for the hottest 2019 kitchen trends. If you weren't thinking about remodeling, you will after reading this article.

Out With the Old and In With the New

Stainless steel appliances and granite countertops have run their course. They have held their position at the top of the kitchen must-haves for over a decade.
Don't be surprised to see the traditional white appliances make a comeback. Manufacturers also continue to experiment with different matt surfaces that do not leave those ghastly fingerprints.
Granite countertops added elegance and class to kitchens. Now the 2019 kitchen trends are turning to different surfaces.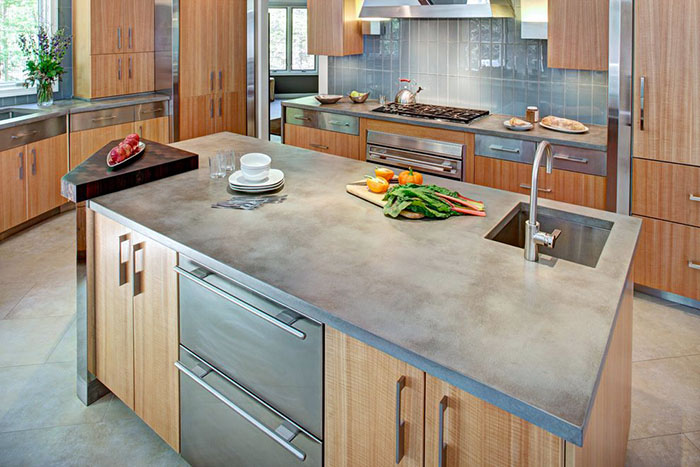 Cement countertops are growing in popularity as homeowners look for less expensive designs. Another trend is using ceramic tiles to create unique looks. With the resurgence in the Craftsman house, expect to see wood counters being featured as a growing option.
Go bold and incorporate a black countertop to go with your white appliances for a futuristic look.
Backsplashes Are All the Rage in 2019 Kitchen Trends
If your kitchen has a backsplash that lacks imagination, we can see why you've fallen out of love with your kitchen. Current kitchen trends centering on tiles and other materials focus on the backsplash to add character to the room.
Ceramic tile, tin panels, hardwood, and even vinyl murals can be used to create a memorable backsplash.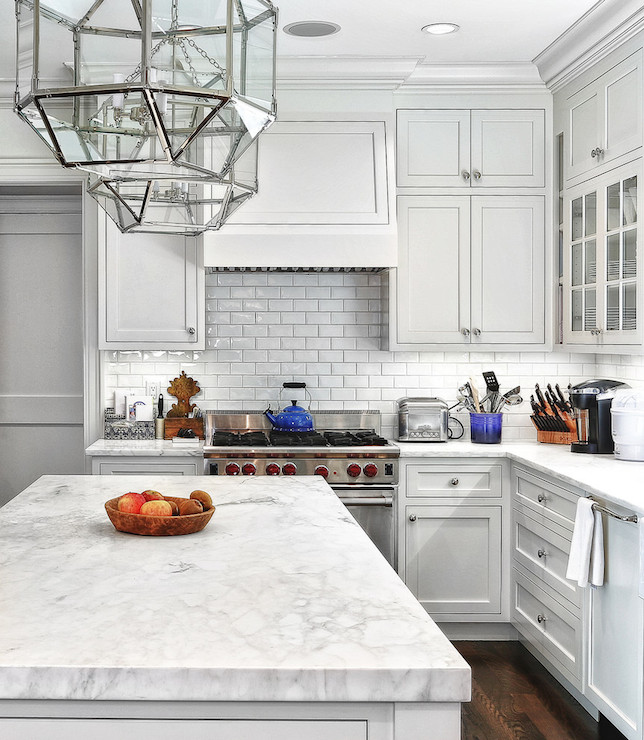 For crisp white kitchens use the popular subway tile. If the industrial look is your thing, consider metallic tiles. For a country theme, go with wood.
Kitchens are about family. If you have a favorite family photo be creative and have it turned into a black and white vinyl mural. It will sure to be a topic of conversation when friends stop by to visit.
What's New in Flooring?
Linoleum flooring is not making a comeback so you definitely need to update your floors. Current kitchen trends provide many options to bring style back into your kitchen. Flooring for your dream kitchen offers many design options, surfaces, and colors.
Wood remains a popular choice. With today's technology, you can achieve the look and feel of wood flooring without having authentic hardwood floors installed. Laminate faux wood planks is a less expensive option.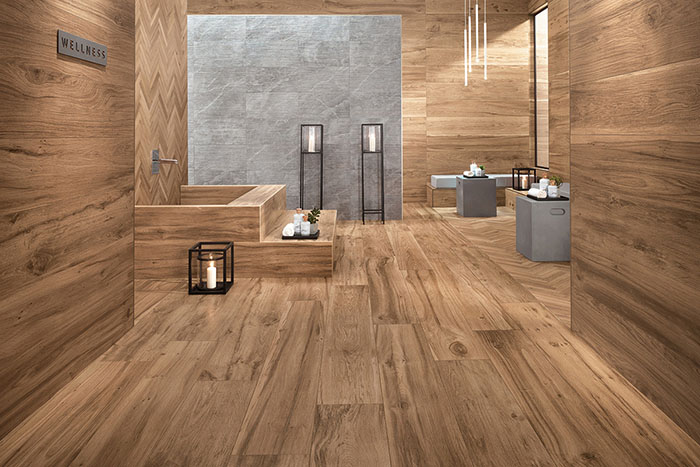 Ceramic tiles can come in wood designs that mirror actual hardwood floors. You can bypass the stain application process by choosing the color you want.
When it comes to flooring a homeowner can get lost in large flooring centers that are growing in the home improvement industry. Ceramic and vinyl tiles come in a large assortment of colors and sizes.
It is important to know exactly what you're looking for in advance. If you are going for a particular theme, do your research before heading to the store. It will help you get through the numerous choices faster.
Lighting Fixtures Are Great Accessories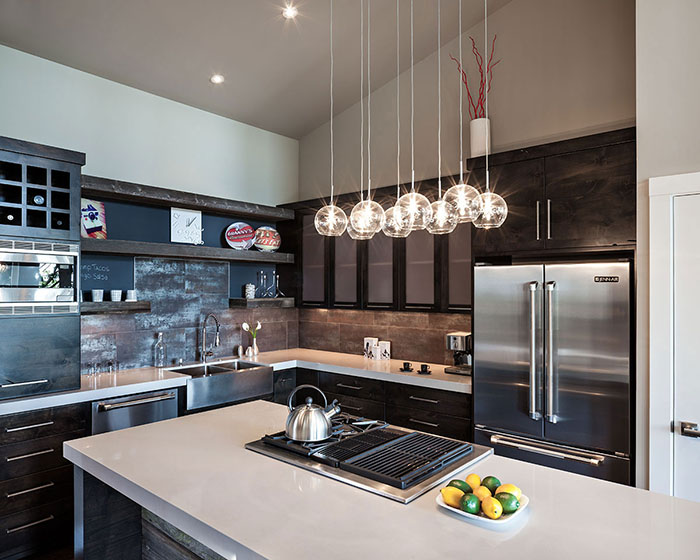 Pendant lighting fixtures are a current kitchen trend that will remain popular as we move into 2019. Manufacturers have come up with some beautiful pieces. You could change your lighting decor to make an impact in your kitchen decor.
Accessories can often set the tone in any room. They show your attention to detail and help build on the theme you've settled on. With pendant lighting, you have many options to choose from.
Expect to see a move from frosted glass to clear domes. A growing trend in lighting is to accentuate the actual light bulb. We can thank the popularity of LED lighting for this design idea.
Vintage-style bulbs became popular as manufacturers sought ways to get buyers to convert from traditional bulbs. They had no idea they would become a design statement of their own.
Recessed lighting is still around, but will take a backseat to pendulum lighting. The options are too plentiful to not incorporate them in your design. Higher kitchen ceilings will provide the best backdrop to larger hanging island pendulum light fixtures.
Paint Your Walls
The all-white kitchen may have finally met its match. Now is the time to let those white walls inspire your taste for color. A trend for 2019 is two-toned cabinets and bold accents.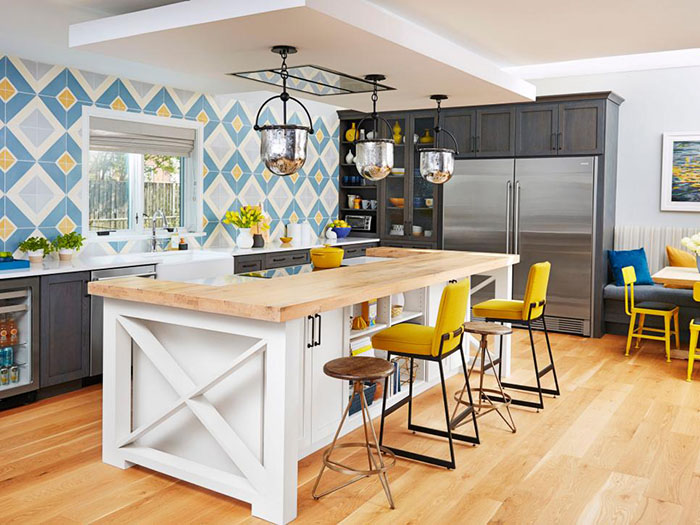 Incorporating vibrate colors into your kitchen decor is what's hot and so are the color pallets. Color will be one of the 2019 kitchen trends to express your individuality.
Since bright white designs will continue to dominate kitchen trends, find ways to incorporate color so you don't have a sterile sanitized feel to your decor. Trending kitchen colors for 2019 include reds, oranges, and purples. You can add accents in neutral tones to balance the transitions.
With this move towards color, expect to see kitchen decor move away from stained wood cabinets. It is once again okay to incorporate color into your kitchen cabinets. Don't forget to accentuate your cabinets with trendy hardware for an added awe factor.
Do We Have You Thinking about a Kitchen Remodel?
Designing a new look for your kitchen can be scary and exciting at the same time. Knowing the hottest 2019 kitchen trends takes some of the guesswork out of the equation.
Whether you are designing an L-shape layout, installing an island or new cabinets, you're going to need some assistance. Kitchen Whiz has planning tutorials that can help you map out the design.
Using a kitchen design planner to help you format your new look will save time. Click here to check out our free planning tool. No Download required!