The kitchen, at its heart, is a place of warmth and nurturing. It's where the family comes together to make and eat food and be in each other's presence.
If you are looking for a kitchen design style that is warm, casual, and earthy, a southwestern kitchen design might be right for you. The southwestern design style is characterized by earthy and cheerful colors, rustic materials, and repeating patterns. These features are all perfectly suited for a kitchen.
Redesigning an entire kitchen can be daunting. Luckily, there are enough conventions in the southwestern design style that you don't have to be an expert kitchen layout planner to get it right.
Keep reading to learn how to design a kitchen online in a southwestern style.
Southwestern Design Origins
A mix of Spanish and Indigenous American cultures and design styles make up Southwestern design. Southwestern design as we know it today was influenced by both the Pueblo Revival movement and the Spanish Colonial Revival movement in design.
The Pueblo Revival Movement focused on incorporating features of the large, stucco, multifamily dwellings of the Pueblo people of the American Southwest. Pueblo Revival buildings feature high ceilings, exposed timbers, brick or flagstone floors, and adobe or stucco walls.
The Spanish Colonial Revival Movement adhered to a relatively similar aesthetic. Spanish Colonial buildings were more ornate than Pueblo Revival buildings though. There was a lot of ironwork, bright ceramic tiles, and red tile roofs.
Contemporary southwestern design combines elements from both of these movements. A contemporary designer should also make sure to incorporate truly new elements. A mix of new and old flooring, hardware, lighting, appliances, and cabinetry can help strike a nice balance.
Southwestern Kitchen Design Fundamentals
When you design your own kitchen, it can be helpful to work from the bottom up. For your flooring, tile is an excellent, traditionally southwestern choice.
One classic option is Saltillo tile. Mexican Saltillo is less expensive and more rustic. Spanish and Italian Saltillo is less subject to wear over time.
Talavera tile is a classic and eye-catching choice. Talavera tile is hand-painted and features either geometric or nature-based patterns.
You can use it as an accent, or tile a large part of your floor in Talavera. You can also mix and match patterns or use just one. There is a lot of flexibility based on your tastes as a kitchen planner.
If you'd rather not use tile for your flooring, wide, rough wood planks look great in a southwestern design as well. You can even consider dying them turquoise or another traditional southwestern color.
When you think about the full, 3D kitchen design, you will want to consider the walls as well. Traditionally, southwestern design uses adobe, stucco, or clay. You can mimic the effect of some of these materials using certain paints or wallpapers.
You could also choose to use some tile on your wall, paint a mural (or hire someone else to), or hang a tapestry or two.
If you have the option to design all the way up to the ceiling, you should. Large, exposed, wooden ceiling beams look quintessentially southwestern. They will add some real beauty to your design.
Southwestern Kitchen Furniture and Fixtures
Furniture, kitchen appliances, and fixtures are the next big items you need to choose as you design your kitchen.
A good look for southwestern furniture is sturdy wood, often with thick legs and interesting details. Knotty pine is a common southwestern wood choice, as are birch, hickory, oak, cherry, and maple. Your cabinets can be made of these same types of wood.
Southwestern design is all about the rustic, so adding some distressed details to wood furniture or cabinets can help them fit the theme. Applying cracked or faded paint in a cactus green, cobalt blue, chile red, bright yellow, or dusty orange can also help your furniture suit your southwestern theme.
For the lighting and fixtures, stay away from anything shiny, like nickel or chrome. The finishes should be rustic and earthy. Consider copper or oil-rubbed bronze, and make sure your faucets and light fixtures match.
Southwestern Decorations
What makes a space feel properly designed, as any online kitchen design professional will tell you, is the accessories and finishing touches. Luckily, there are a lot of opportunities for little design additions to a southwestern kitchen.
One clear winner is adding ceramics. If you decided not to use Talavera tile, maybe a hand-painted Talavera pot would look nice. Any handmade terra cotta ceramics will look great in a southwestern kitchen, whether they've been hand-painted or not.
Wrought iron accents are also a staple of southwestern design. Think about adding wrought iron door handles and shelf brackets. You might even want a wrought iron display stand for some of that handmade pottery.
Tapestries and other knit pieces are also great southwestern accents. While a handmade throw may not be appropriate for the kitchen, some miniature versions as placemats could look great. A geometric table runner may look nice as well, draped over an island or your kitchen table.
Time to Design Your Kitchen Online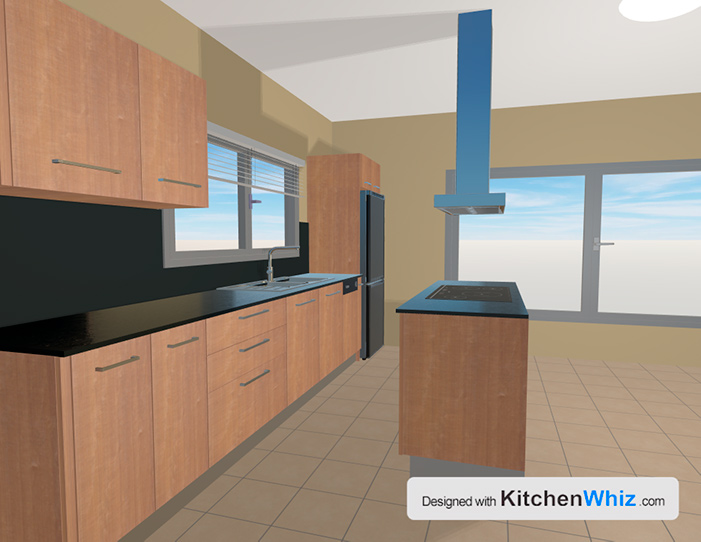 Now that you've got some great ideas for your new kitchen, you need a way to visualize and plan your kitchen design. Some great kitchen design software can help you envision your new kitchen in 3D.
KitchenWhiz's online kitchen planner is the perfect tool for the job. KitchenWhiz will handle all the calculations for you. That way you can focus on the part that matters: adding your design flair to your new kitchen.
KitchenWhiz has the best kitchen planner online for creating and visualizing an accurate, 3D kitchen design. Check it out now and start designing your dream southwestern kitchen today.