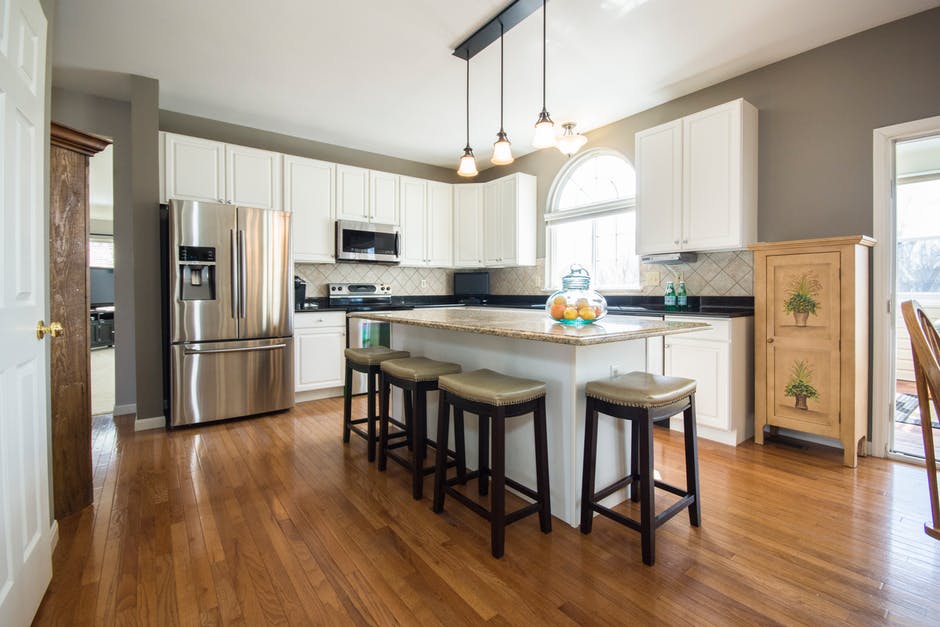 Real wood flooring is a timeless look that adds warmth and character to any room. If you're considering wood floors in your kitchen, you may be wondering what the best options are.
The type of wood you choose affects how well the floor holds up in a high traffic area like a kitchen. You also want to consider how well it handles moisture and damage.
Find out what our recommendations are for kitchens and how to care for your wood floor.
Be Prepared for Maintenance and Care
Many homeowners opt for wood floors because it creates a flow from room to room, making one cohesive space. This is particularly attractive if you have an open kitchen that connects to another room.
But if you want to use real wood instead of wood vinyl flooring, be ready to take on frequent maintenance.
Over time, wood will naturally accumulate scratches, dings, and imperfections. Every few years you should be ready to buff and update them with another coat of polyurethane.
Engineered Wood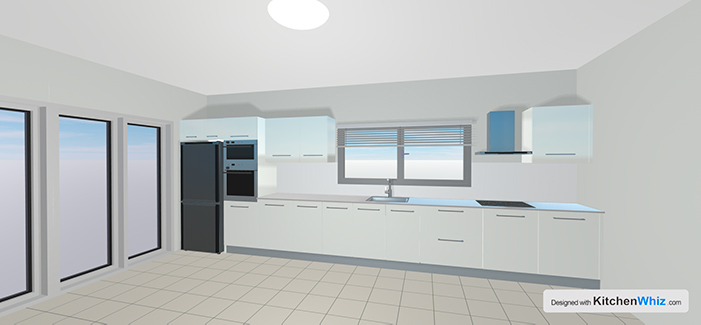 For a floor that holds up better in a high-traffic area like the kitchen, consider engineered wood flooring. Engineered wood has a thin piece of hardwood on top of plywood. Of course, there are pros and cons to both engineered wood and hardwood floors.
This type of wood holds up better to moisture such as splashes or spills. It's a better option if you have young children or pets that might leave messes.
A benefit of engineered wood floors is that there are different installation options. It can be stapled or nailed, a fold and lock type, or glued in place.
White Oak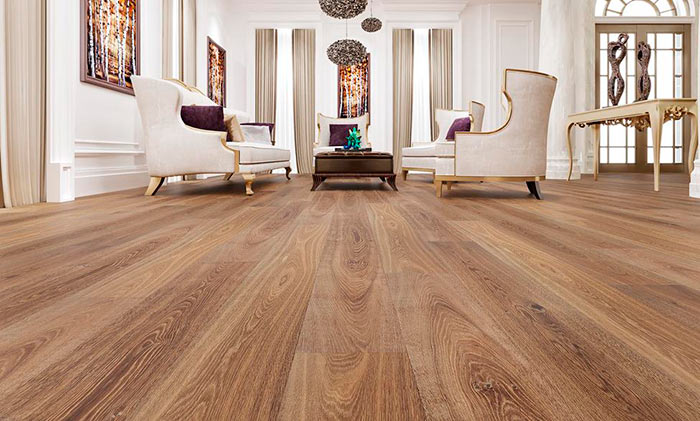 Many homeowners pick lighter wood for their kitchen. Not only does this make the room brighter, but it also hides dents and dings better than dark wood. This style of hardwood has a lot of texture so it covers up mishaps better.
White oak is a great choice because it's durable and it also hides the signs of foot traffic which results in less sweeping and mopping. If you have kids or pets, a lighter option like white oak makes the most sense because of its practicality.
Maple and Cherry Wood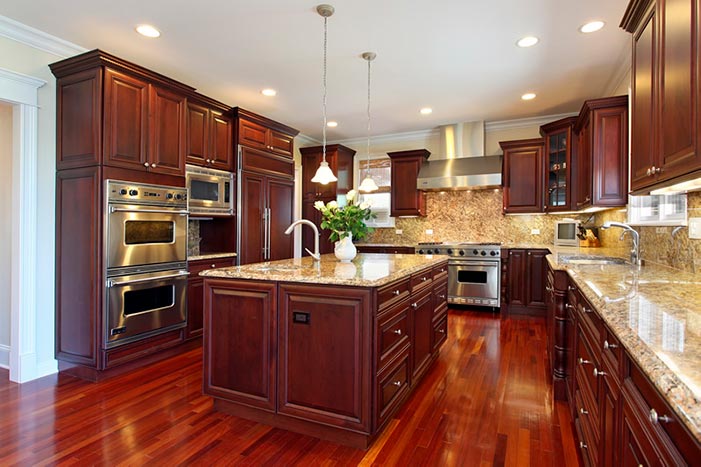 Maple and cherry both come in a variety of both light and dark colors.
Unlike wood laminate flooring, a true hardwood floor is prone to scratches and damage. Again, maple and cherry wood are both dense hardwoods like oak that withstand damage better than softer wood like pine. If you want a darker floor, these are good options.
Remember the Finish
Hardwood flooring remains popular in 2019 kitchen trends and designs. It's no wonder when wood flooring brings a space together so well and it adds so much value to your property.
Now that you know the options for hardwood floors, remember that the finish is the last touch. After installation, floors need to be treated with a sealing agent. This protects your floors against water damage which is especially important in your kitchen.
Create a Beautiful Kitchen with Wood Flooring
Wood floors can work in your kitchen as long as you follow manufacturer guidelines and care for them. Make sure to pick a color and style that makes sense in your household.
Stick to hardwoods such as oak, cherry, and maple or consider engineered wood floors.
Before you invest in wood flooring, see how it looks with our kitchen planner. Start designing your dream kitchen today for FREE.