Are you looking to finally remodel your kitchen and get the cooking space that you've always dreamed of? Do you want to redesign your kitchen but unsure of where to start? If so, then you need to start by learning all you can about finding an optimal kitchen layout.
Doing so can help you find the right design for your space. It can increase the convenience of your space, the aesthetic of your kitchen, and help give you a constructive starting point.
See below for some of the best kitchen layouts for the new year and why you should consider them all in your plans.
1. Two-Island Kitchen
Some people can't get enough of kitchen islands when they look to design a kitchen for the first time. For many, having an island in the cooking space is a must-have. It's a key element that they design the rest of the kitchen around.
If you're a big fan of kitchen islands and have a larger space than the average home, why not indulge in your 'island fever' by creating a kitchen layout with two islands.
You can have them running perpendicular to each other, hosting separate aspects of your kitchen on each. For example, one island can contain your kitchen sink, while the other features your electric cooking stove.
It's important to always factor in the kitchen work triangle to your design. This will ensure that your kitchen is as productive as possible.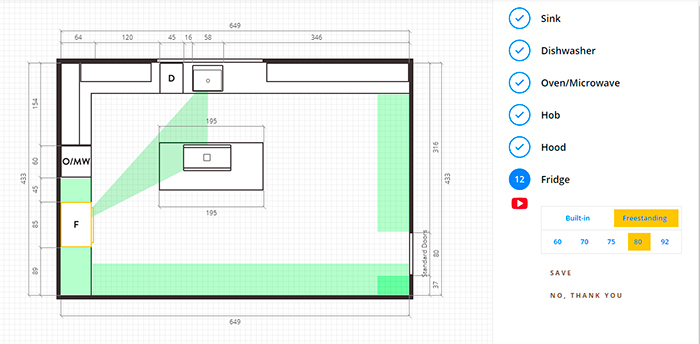 For those of you unfamiliar with the term, the kitchen work triangle is a factor of kitchen layout design. It maps out the distance between the three most commonly used aspects of your kitchen: your sink, your refrigerator, and your cooking stove.
As the name would imply, you want to keep as firm of a triangle as possible. If you're considering a two-island design, then make sure the fridge is against a wall within the kitchen work triangle from your stove island and sink island.
2. One-Wall Kitchen
Again, a kitchen layout title that gives away its methodology. One-wall kitchen designs are a perfect fit for those of you that want an optimal and aesthetically-pleasing design but lack space to do so.
The idea is to feature most, if not all of your kitchen's appliances and cabinetry on (you guessed it!) one wall. This layout can be edited somewhat to feature a kitchen island out in front of the wall, which gives off a simplistic and desirable design.
The one thing you'll want to consider for this design is cabinet space. Typically, one-wall kitchens lack efficient cabinetry because they need to make room for space-occupying features such as the fridge, oven, sink, and stove.
Many experts rave about this easy-to-use layout. All of your cooking/baking needs will be in front of you, preventing the need to twist and turn from feature to feature. While the kitchen work triangle is sabotaged in this layout, it works due to the confined space.
That said, one-wall kitchens aren't ideal for the Barefoot Contessas of the world. Think more along the lines of those cooking for a small family on a nightly basis.
3. U-Shaped Kitchen
Those of you looking to maximize your space and fill your kitchen with cabinetry, meet your perfect match: the U-shaped kitchen.
The U-shaped kitchen, otherwise known as a "horseshoe kitchen" is a perfect design for those that spend an immense amount of time cooking and baking. It has all the cabinetry to safely store your many kitchenware items and cooking utensils.
It also helps you optimize the kitchen work triangle, mixing and matching however you'd like. Add cabinets on all three walls, with a beautiful kitchen island placed smackdab in the middle.
U-shaped kitchens are great for those that entertain a lot. It creates a great place for social gatherings, family meals, cook sessions, and so much more.
4. Galley Kitchen
Instead of one wall, think of two walls or "rows" to your kitchen, each one parallel with the other. This is what's referred to as a "galley kitchen" layout, which is especially popular in modern design houses.
It's a great design for those of you that also want to prioritize a dining room in the space you have available. You can line both rows of the kitchen on one side, and leave ample room for a sizeable dining room table for your family and friends to gather.
Galley kitchens help you maximize your space, however little that might be. It can be used in homes, apartments, townhomes, and condos alike.
5. L-Shaped Kitchen
Some of you out there want to prioritize open space. You feel if you install too much cabinetry, then you'll feel claustrophobic in your own kitchen. If that's you, then you might prefer an L-shaped kitchen over a U-shaped kitchen.
You can choose to place both sides of the L-shaped kitchen up against two walls or use one row as a way to separate your kitchen from the rest of the space.
The main premise of this layout is to limit cramming. You'll have a wide area of walking room to use the various features you install in your kitchen. You can design your kitchen online using an online kitchen design tool such as KitchenWhiz.
Install Your Optimal Kitchen Layout This New Year
Now that you have seen all of the best methods for designing your optimal kitchen layout in the new year, it's time to start your planning.
Be sure to read this article for more information on 5 easy kitchen improvement ideas you can incorporate as you design your kitchen remodel.
For more inquiries, be sure to follow this link to design your kitchen online right away. Your dream kitchen awaits!