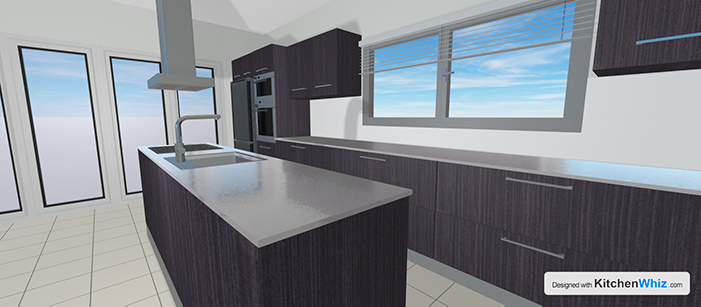 You finally have the opportunity to design the kitchen you have always dreamed about! No longer do you need to settle for small kitchens, little counter space, and mediocre appliances. You get to decide every little detail and make your kitchen fit your needs perfectly.
While you start searching for kitchen design inspiration, you need to think about what layouts and elements you need in a kitchen. 3D kitchen design tools are the best way to visualize your dream kitchen. These tools create the most accurate and lifelike representation of your dream kitchen in 3D.
Using 3D kitchen design tools allow you to create everything from the general layout to the patterns and textures you use on the backsplash. There's almost no limit on what you can do and how you can design your kitchen.
If you're planning to renovate or build a new kitchen, then you need 3D kitchen design software. Here's everything you need to know about this software and how it can benefit you!
3D Kitchen Design Is a Tool
3D kitchen design is a software and planning tool that allows you to take abstract ideas and make them more concrete. They're easy to learn and use benefiting both professional designers and DIY amateurs alike. Regardless of your level of experience and expertise, kitchen design tools will make the design process quick and easy.
A popular all-in-one option is online kitchen design software. Using a kitchen planner online doesn't require you to download any software on your computer or device. Every tool you need is readily available and won't take up space on your computer or other devices.
Quality 3D kitchen design software will offer an unlimited number of kitchen layouts to get you started on your design. From there you can customize everything from the color and texture of your cabinets to the countertop material and the style of appliances.
When you finish your design, you can experience it in 3D. This allows you to view the most accurate representation of your design. It will give you a feel for how it will look and feel in the real world.
From there, you can download and save your final design for reference. You may use it to renovate your kitchen on your own or as a reference for a professional designer.
Creating your dream kitchen with an online kitchen planner offers many more benefits than the ability to see your designs in 3D. It helps ensure your designs are functional, cohesive, and make sense. Here's a closer look at how a 3D kitchen design planner can help you.
Your Kitchen is Functional
If you're not a professional interior designer, it's easy to forget about the technical side of design. Everything including cabinets, sinks, and appliances needs to be accessible and usable in a kitchen.
For example, you don't want to place a cabinet in a corner where you can't open it. You also want to make sure you have enough room in your kitchen to move around, cook, and clean.
Kitchen design software will assist you with the technical side of your designs. Every kitchen layout you make in the design software will be functional with accurate measurements.
Save Money and Time
Hiring an interior designer to help you design the layout and look of your kitchen is a great way to plan the perfect kitchen. The downside is professional designers are expensive and will charge you for every design they create for you. Including the designs you don't choose.
Opting for online kitchen design software is the most cost-effective option. There are both free and paid-for design options depending on your skill level, design needs, and budget. You can draft and experiment with the kitchen design that you want without having to pay for every design.
Learning to use online kitchen design software is easy. Most online design software has drag-and-drop features making the design process intuitive and quick.
The kitchen design and renovation process will also go much faster. There's no need to wait for a designer to create layouts for you to check and approve. As your own designer, you'll have control over how fast you move the design process along.
Experiment with Different Styles
What do you do if you have several kitchen ideas? Test them out, of course! Online kitchen design tools allow you to experiment with everything from kitchen shapes, layouts, trim, and more.
3D kitchen design software comes with a nearly limitless number of kitchen layout styles for you to choose from. Experiment with different layouts to find one that makes the most sense to you. Try different color palettes, flooring styles, and more to find the perfect combination.
360-Degree Views
The major advantage to a 3D kitchen design planner is you can view all 360-degrees of your design. Your kitchen layout and design may look good from above but how does it look and feel from below? How does it look when you walk through it?
The ability to view and experience your design from all angles will show you an accurate representation of how your finished kitchen will look. You can catch and edit any design mistakes or missing elements you didn't notice from above. You'll also be able to test out how the faucet, backsplash, and cabinets will look together and edit them as needed.
Then there's the ceiling to consider! You can customize and view the ceiling color, types of lighting, and hanging shelving. View all of this from multiple angles to ensure everything fits exactly the way you want it.
Design the Smallest Details
The tiny details are what pulls a room, or a kitchen, together. Online kitchen design software lets you customize every detail, no matter how small it might be. This includes the colors, textures, and finishes on your cupboards.
Test different styles of backsplashes, wall colors, floor styles. Mix and match kitchen fixtures to find the perfect kitchen style for your home.
Start Designing Your Dream Kitchen Today!
Whether you're building a new kitchen or renovating an existing one, take advantage of 3D kitchen design software. You'll be able to visualize and test your kitchen designs to ensure you create the kitchen you always wanted.
Have questions or want to get started? Sign up for our software to start designing today!